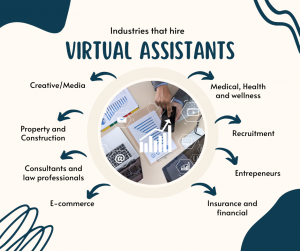 Previously, we've discussed the job of a virtual assistant, its importance, and how to go about hiring one. We hope to have given you good insight into our world of work, but perhaps you're left wondering, would a virtual assistant be a good fit for my business?
Look no further, as this article aims to explore who hires virtual assistants, the work they typically look for, and why we tend to be a good fit for their needs.
We generally see a wide variety of industries that seek out our services. These industries are wildly different from one another and include everything from Law professionals to Creatives, but often are looking for similar work.
But why is it that businesses from such varied sectors often outsource the same services?
This tends to be because our clients have something they do best (whether that be selling houses, providing legal advice or defending clients in the courtroom!), and want to free up more time to do more of their best work. Often, our clients will spend much of their business hours, and beyond, answering customer emails, updating websites, advertising media and networking, which takes precious hours away from being able to perform their best work as a business.
Even on an individual level, our clients have generally set up their business to do more of what they love, so when there's mountains of emails to respond to and important business networking to be done, their business commitments are shifted away from the passion that inspired that business' conception and core goals in the first place.
Of course, this doesn't mean that answering emails, managing socials and liaising with customers isn't important, but offsetting this work to specialists, such as virtual assistants, allows for the best of both worlds- a high quality of business management, paired with high quality services from the business themselves!
To put it simply, outsourcing work to virtual assistants allows for a clear split between business 'housekeeping' (jobs necessary to the smooth management of a business) and growth (development of your business' goods & services, and pushing towards goals!), where each element of the business is therefore run by specialists in that area.
So, for example, a realtor client can put dedicated effort into staging and showing homes, building up strong relationships with customers, landlords & tenants and making sales by offsetting administrative duties to a virtual assistant. Equally, the virtual assistant is focused solely on administrative duties and can make sure the back-end of the business is running smoothly for the realtor.
Beyond this, the virtual assistant can assist company growth in other ways, through their own skill-sets. They may utilise social media to advertise listings or send out personalised emails to potential clientele to generate leads- all whilst the realtor client is out showing houses and making sales.
This is just one example, but is an effective business model for so many industries- from building construction to health & wellness.
Are you looking to spend more time growing your business, working with clients or doing more of what you love? Then virtual assistant services could be a good fit for your business and goals!